Regular price
Sale price
$50.00 USD
Unit price
per
Sale
Sold out
The Hidden Hills Club 2 gram disposable offers the most refined and effective vaping experience available in the hemp industry. This is a true dispensary grade product made with the utmost attention to detail and quality.
The Delta-11, Delta-9 and THC-P Blend is crafted utilizing the latest extraction and blending process which offers a consistent hit every time. Each disposable vape device contains no less than 25% of THC-P, known to be the strongest hemp-derived cannabinoid available. This high concentration artfully blended with Delta 11, Delta 9 and other cannabinoids make the Hidden Hills vape pen worthy of even the highest tolerance.
Ease-of-use is another defining factor of these elegant devices. Five quick clicks turn on the device and another 5 quick clicks turn off the device. To enjoy, simply press once to fire and pre-heat. The pre-heat functionality prevents clogging and delivers a smooth, clean draw.
Each Hidden Hills Club disposable has a built in USB C port for rapid charging. Great for on-the-go use.
Hidden Hills Disposable Strains – 6 great flavors to choose from
Blackberry Mamba

 

(Indica)

 

– This Indica strain is carefully crafted to offer maximum fruit flavor. Bold berry flavors are like inhaling a fresh bowl of fruit. This delicious blend is a must-try for post-workout or finding some "you" time.
Blueberry Gelato (Hybrid)

 

– This Hybrid strain is a classic that offers a calming balance of blueberry on the inhale paired with slightly earthy undertones. This blend is a perfect companion for afternoon post-work relaxation.
Kiwi Zellow Sorbet (Sativa) --  the sativa-infused disposable vape that offers a delightful fusion of tangy kiwi and smooth sorbet flavors. This convenient and portable device delivers a burst of refreshing kiwi on every inhale, followed by the creamy and satisfying notes of sorbet on the exhale. With its sativa properties, Kiwi Zellow Sorbet provides an uplifting and energizing experience, making it the perfect vape for the day.
Citrus Mango Pop (Sativa) --  the sativa-infused disposable vape that delivers a burst of tangy citrus and tropical mango flavors in every puff. Designed for convenience and portability, this disposable vape allows you to enjoy the uplifting effects of sativa on the go. Indulge in the refreshing taste of Citrus Mango Pop and embrace the energizing benefits of sativa, making it the perfect choice for a satisfying and invigorating vaping experience.
London Shaved Ice (Sativa)

 

– This Sativa dominant strain delivers notes of Lemon, and Tropical Berries. The Lemon and slight hint of berries are clear on the inhale and carry through to the exhale.
Rainbow Belts

 

(Hybrid)

 

– This Hybrid strain offers a wide blend of flavors that are carefully crafted for a one-of-a-kind taste experience. Expect hints of citrus paired with sweet and fruity aromas. This is a perfect blend for anyone who wants the best of sweet and citrus flavors.
Additional Product Information
5 Clicks To Turn On Device
Built In Pre-Heat Function
Potent and Terpene Specific Flavors
Potent Cannabinoid Blend containing at least 25% THC-P
2000mg Per Disposable
Rechargeable Disposable
All Hidden Hills products are federally legal under the 2018 Hemp Farm Bill containing less 0.3% Delta-9.
SOLD IN 5pk DISPLAY
View full details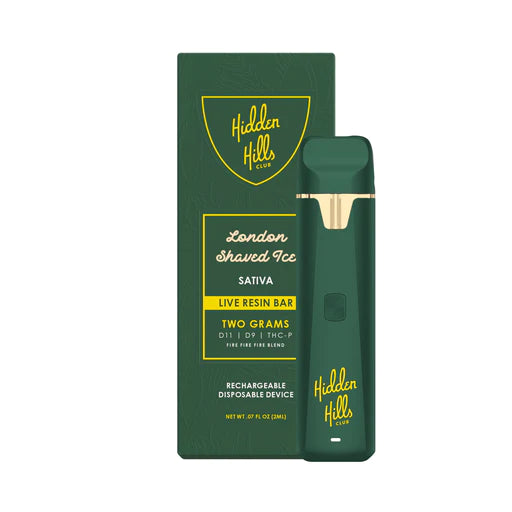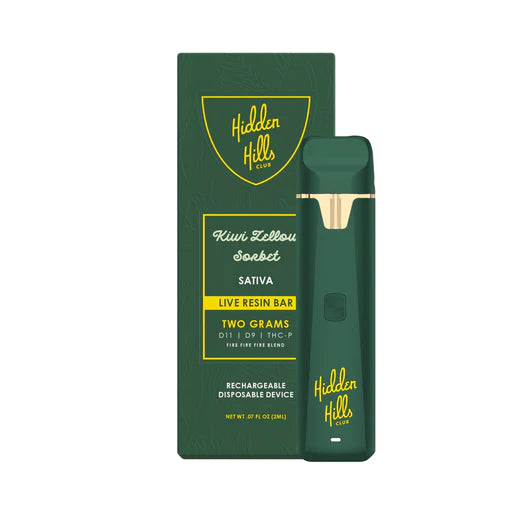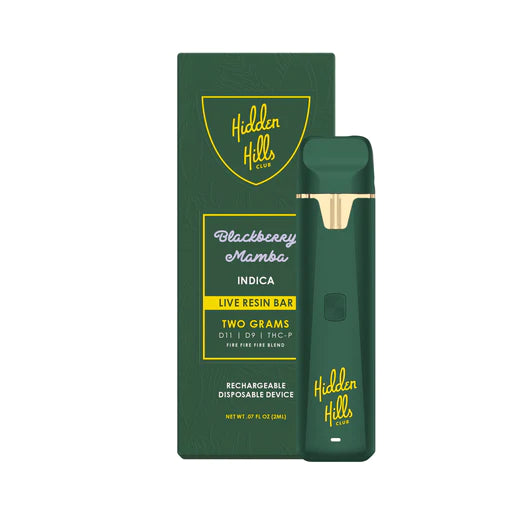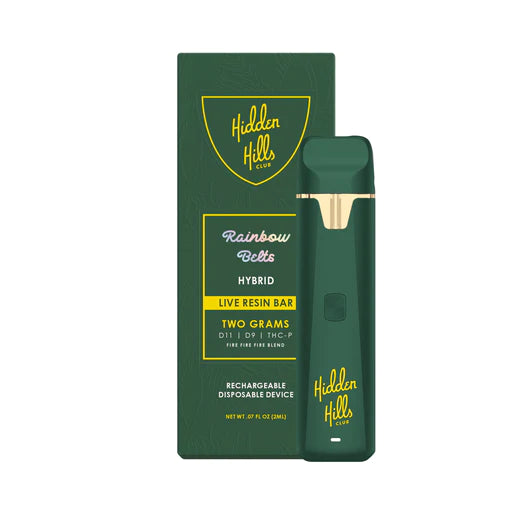 Free Shipping

ALWAYS FREE SHIPPING ON ANY ORDER OVER $300

***ADDITIONAL SHIPPING FEES APPLY TO BEVERAGE ORDERS***